Tag Archives: athens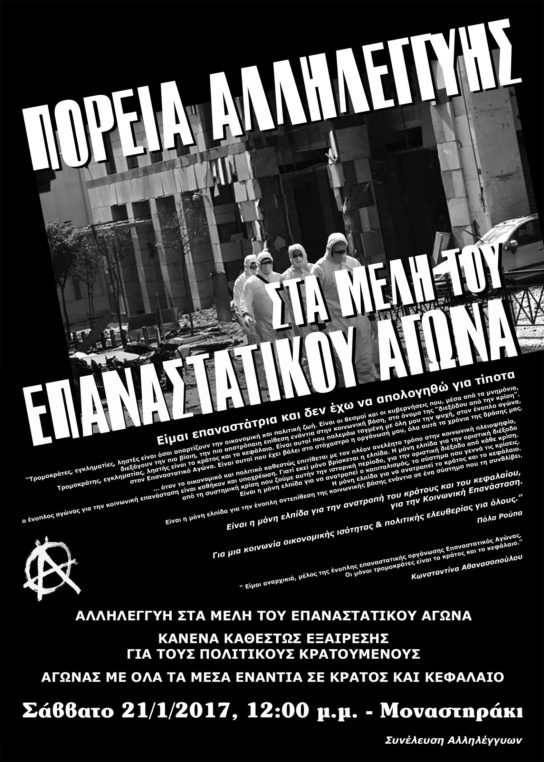 The poster reads:
"I am a revolutionary, and I have nothing to apologize for.
Terrorists, criminals, robbers are those who compose the economic and political life; the institutions and governments that, through the memoranda, are waging the most violent, the most heinous attack on the social base in the name of a "way out of the crisis." Terrorist, criminal, robber is the State and Capital; those whom I fight committed with all my soul to armed struggle, to Revolutionary Struggle; those whom my organization has targeted all these years of our activity.
(…) when the economic and political establishment attacks the social majority in the most merciless way, armed struggle for social revolution is a duty and obligation; because that's where hope lies and nowhere else. The only hope for a definitive way out of the systemic crisis we are living in this historical period, for a definitive way out of every crisis. It is the only hope towards overturning capitalism, the system that gives birth to crises; the only hope towards overturning the State and Capital.
It is the only hope for an armed counterattack of the social base against a system that crushes them.
It is the only hope towards overthrowing the State and Capital; for Social Revolution.
For a society of economic equality and political freedom for all."
"I am an anarchist, member of the armed revolutionary organization Revolutionary Struggle. The only terrorists are the State and the Capital."
Demonstration in solidarity with Revolutionary Struggle members
Saturday January 21st 2017 at 12:00 in Monastiraki (downtown Athens)
SOLIDARITY WITH THE REVOLUTIONARY STRUGGLE MEMBERS
NO EXEMPTION STATUS OF POLITICAL PRISONERS
STRUGGLE AGAINST THE STATE AND CAPITAL BY ANY MEANS
–Solidarity Assembly (Athens)
Full text of callout in Greek.
source: contrainfo